Modérateurs : 7Tigers, deBorn, kristoff
J'ai l'immense plaisir et chance qu'Agathe me propose de réaliser ces deux illustrations.

Maintenant, arrive la phase piquante...
We are all Us!
Traducteur Runequest (entre autres) / Auteur Chaosium / A pen to hire 
---
Ah c'est pour toi ! Excellent ! Alors bon courage !
---
Oui, bon courage!
PJ centaure
par
Katrin Dirim
"Sister lift your veil so you may see,
with golden eyes our loved dead,
guide them safely to their home,
ward off any evil gaze,
so that they may wait in peace,
to welcome us as well."

-Prayer given among Centaurs when tasking a death priest with guiding a recently departed soul to the afterlife
---
Yelorna Starbringer
, par
Katrin Dirim
Yelorna Starbringer, the maiden goddess who together with her much less cool brother Yelmalio defended the earth from the forces of Darkness and Chaos after the Sun was murdered.
---
Hwarindava Golden-Tongue, of the widely feared Full Moon Corps
, par
Katrin Dirim
---
Lamazone
, par
Katrin Dirim
The nomadic High Llama tribes of Prax are a force feared far beyond their borders, emerging from the wastes on their towering steeds to loot and plunder their unprepared sedentary victims. Particularly feared for their ferocity are the warrior women of the tribes, the Llamazons.
---
Une
Chaman
par
Mingchen Shen
: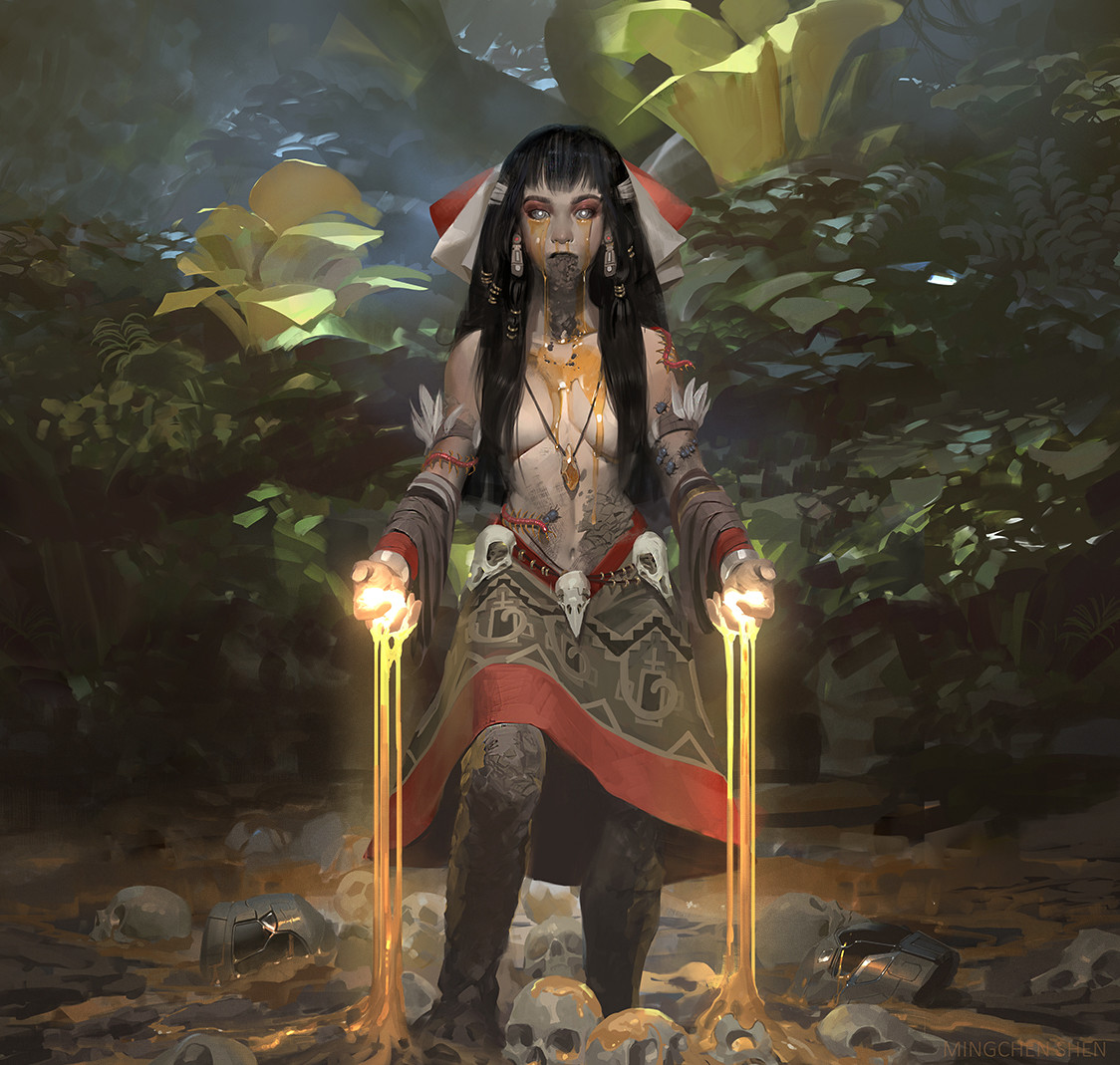 ---
Ourania
, par
Katrin Dirim
The Queen of Heaven leads the Sky in song and dance to repel the monstrous foes assailing their home.
---
Dario Corallo propose
son
Corallosseum
pour les jeux en ligne:
---
Orlanth Tempétueux se prépare à vaincre Zistor le Dieu Machine
, par
Katrin Dirin
---